For those braving winter, there's nothing quite like escaping the cold for a few days or a few weeks. No matter where you live, sunny skies, warm weather, and stunning scenery always feel good to the soul. Here are our top picks for the best winter sun destinations–places that provide the beauty, backdrop, and restful base to recharge and have fun.
Phuket, Thailand
Thailand has many beach towns that are ideal for travelers seeking winter sun destinations. Phuket is one of the most popular among them. Book yourself a beachside room on Kata, Patong, or Freedom Beaches and luxury properties like Rosewood Phuket and Amari Phuket.
To get up close to elephants, visit an elephant sanctuary for an elephant walk instead of a ride. Visit the Big Buddha statue, only the third tallest statue in Thailand. For the best nightlife, head to Bangla Road, where bright lights and Go-Go bars are ubiquitous.
There are numerous day trips you can take from Phuket. Phang Nga Bay is great for kayak tours, and the Phi Phi islands, including Maya Bay, are on everyone's list.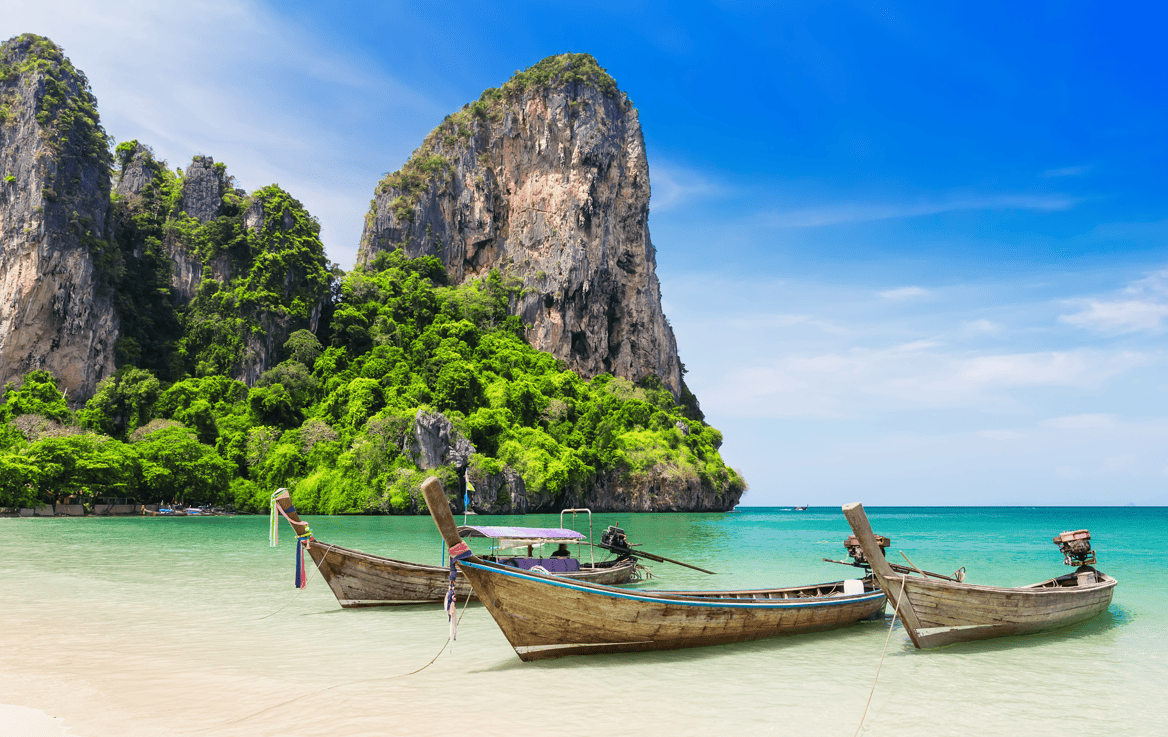 Palm Springs, CA
California has so many popular places to visit, and Greater Palm Springs should be one of them! Given that the city gets an average 269 days of sunshine per year, it's the ultimate winter sun destination for nature-loving sun-seekers.
This modern desert region exudes desert vibes and is home to a thriving arts scene, fantastic mid-century modern architecture, and stellar vacation rentals. Shopping in downtown Palm Springs is surprisingly good, due to the eclectic mix of restaurants and stores ranging from discount shops to pizza parlors.
Outdoor lovers will have many options to choose from, including some truly breathtaking hiking and cycling trails like Indian and Tahquitz Canyons and the Indian Canyons Loop. The city is a really convenient place for urban cycling. The laid-back region makes it an ideal place to kick back, enjoy the sunshine, and relax by a pool with your drink of choice.
Related post: Quintessential Things to Do in Palm Springs
Ambergris Caye, Belize
Belize is one of those destinations that flies under the radar, but this small Central American country of approximately 400,000 people is easily one of the best winter sun destinations and also one of the best places in the world to go under the sea. One reason is that Belize contains the world's second-largest coral reef. Within Belize's reef system lies one of the world's most impressive natural phenomena: the Great Blue Hole, a giant sinkhole near the Lighthouse Reef. If you're a diver, you'll certainly want to cross this place off your bucket list.
Another marine site worth visiting is Hol Chan Marine Reserve, a popular five square-mile underwater park, where you might spot sea turtles, eels, and nurse sharks.
Ambergris Caye, Belize's largest island, is the place to go for a variety of other water activities, including snorkeling, water sports, and relaxing by the beach. The island also has a number of amazing luxury resorts, including Mahogany Bay Resort, Matachica Resort, and Alaia Belize.
Related post: Belize Scuba Diving the Jacques Cousteau Way
Turks and Caicos
With endless miles of beaches in this pristine archipelago, Turks and Caicos is one of the best winter destinations where American travelers can enjoy large multi-bedroom accommodations in luxury resorts, which is perfect for groups.
The island of Providenciales (or Provo, for short) is also blessed with miles of pristine beaches like Grace Bay, where you can enjoy hours of relaxing beach time. Other activities in Provo that are great for you and your gal pals include sailing, scuba diving, snorkeling, paddle boarding, and even hiking! Don't forget to schedule some spa time, as there are a number of fabulous spas on the island, including The Spa at the Palms Turks and Caicos.
One exciting way to experience the island is to travel around the island by scooter with Paradise Scooters or bicycle with Caicos Cyclery. In addition, taking a mangrove tour in a clear-bottom kayak is one of the unique ways to see a different side of the island.
Provo has a number of quaint places to dine. LEMON 2 GO is a cute little coffee shop in Providenciales that makes a great place for breakfast or lunch. The shop serves delicious smoothies and shares space with a charming florist and gift shop. Another great breakfast and lunch spot is Shay Cafe, which offers cr?pes, croissant breakfast sandwiches, and cool outdoor seating. For dinner, check out Bugaloo's Conch Crawl, The Terrace on Grace Bay, and the Thursday Night Fish Fry, where there's usually live music.
Related post: Top 10 Luxury Turks and Caicos Resorts
Maldives
Whether it's for a couples' or girls' getaway, the Maldives is a place that every woman should have on her bucket list. The smallest country in Asia by land mass, this archipelago nation is comprised of nearly 1,200 islands grouped among 26 atolls. With tourism becoming the country's largest industry, Maldives is home to some of the most luxurious resorts anywhere in the world.
The stunning variations of blue are jaw-dropping, and the luxury resorts in this effortless archipelago will easily be among the best hotel stays of your life. Each resort typically occupies its own private island with both beach villas and overwater villas.
The country may seem to be an unexpected spot for a girls' trip, but traveling to such a remote environment with friends ensures you'll have ample time to conversate and bond over gourmet meals, happy hours, sunsets, and water activities like paddleboarding, snorkeling, or scuba diving. One exciting resort in the Maldives that caters to wellness seekers looking to luxuriate is Joali, a sustainable resort of 73 villas and residences on Raa Atoll.
Though you can't really interact with the local population much at the resorts due to isolation, you can get a taste of Maldivian culture via food. "Hedhikaa" or short-eats are a Maldivian specialty of snacks like patties, rolls, and pastries, and they are available in most resorts and tea shops. Maldivian curries are also common as well as "mashuni"–which contains grated coconut, tuna, onion, chili and lemon–and roshi (chapati or roti flatbread), both of which are usually eaten at breakfast.
Related post: 3 Affordable Ways to Take a Maldives Dream Trip
Cabo San Lucas, Mexico
Cabo San Lucas (or Cabo) is a resort city in Mexico's Baja California peninsula that became an even more popular destination during the pandemic given the ease of travel to Mexico. The city is best known for iconic sites like El Arco, a natural arch comprised of cliffs, and the adjacent Playa del Amor, Lover's Beach, where you can take a water taxi to relax on the beach and explore the adjacent cliffs.
Winter in Cabo is very pleasant with mild temperatures that allow ample time at the beach and outdoor activities like ATVing and zip lining. December is the prime season for whale shark and humpback whale-watching encounters, and sailing, especially around sunset, is the perfect way to spend or end the day
One of the best things to do in Cabo is eat. There are many great restaurants serving authentic Mexican cuisine such as Restaurante Maria Corona, which serves intriguing dishes like vegan ceviche and lobster enchiladas. Downtown Cabo is a great place to walk around and hang out due to its lively marina, nightlife spots, shopping venues, colorful restaurants, and taquerias.
Maui, Hawaii
When you think of the most idyllic places to escape, Hawaii is certainly a top contender! Though each of the Hawaiian islands are blessed with an abundance of warm, sunny days, culture, beaches, and fantastic cuisine, there's something special about Maui.
Maui is home to the world's largest banyan tree, and its breathtaking views from the Road to Hana and Haleakala National Park are truly magical. Though watching the sunrise atop Haleakala is marvelous, sunsets are just as spectacular, and after the sun goes down, the viewpoint makes a great place to watch the dark sky be illuminated by the stars. Maui is also a great place to take a snorkel tour with one of the most unique spots being Molokini Crater. Known for its sunsets, two of the best places to watch this daily wonder are at Haleakala National Park and Kapalua Bay.
There are so many places on the island to experience the outdoors. Take nature walks in Iao Valley State Park or the West Maui Forest Reserve or go canoeing in an outrigger. If you're feeling more adventurous, you can try a surfing lesson with Maui Surfer Girls, which also includes a professional photographer to capture your lesson.
Lastly, you can't come to the Aloha State without touching and tasting pineapples. Take a Maui Pineapple Tour to learn about the cultivation of the state's most popular fruit. For great shopping and dining options, hang out in Whaler's Village, easily accessible from the Kaanapali Beach Walk, which overlooks Kaanapali Beach.
Have you visited any of our picks for best winter sun destinations?